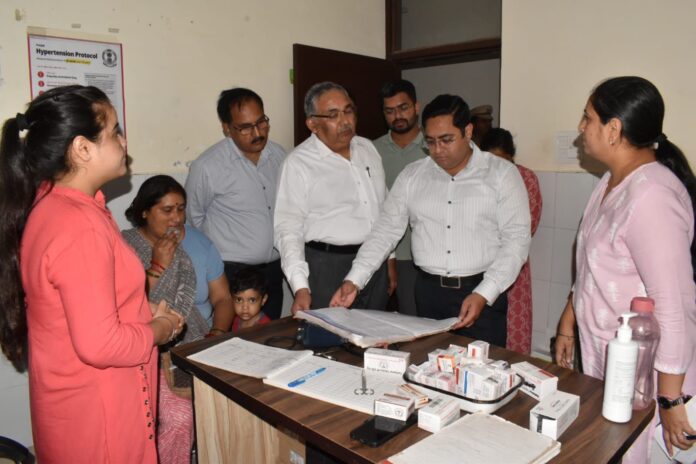 Jalandhar, August 3
Deputy Commissioner Vishesh Sarangal on Thursday inspected the progress of upcoming 17 Aam Aadmi Clinics in various areas of the district besides reviewing the functioning of existing 38 such clinics.
Accompanied by Civil Surgeon Dr Raman Sharma and other officers of the health department, Sarangal visited Jalandhar Cantonment, Bhagro Camp, Garha, Giddarpindi and other localities where the new clinics are coming up under the state government's flagship scheme. He instructed the officials to ensure there was no deficiency in the standard of work being carried out in these new clinics. Besides, the DC also inquired about the availability of required medical equipment, medicines etc from the officials and asked them to deploy more manpower in Bhargo camp Clinic.
The Deputy Commissioner said that Jalandhar was set to get 17 new Aam Aadmi Clinics, which will be dedicated to the city residents on August 15. A total of 38 such clinics are already operational here in which 2.49 lakh people have availed services. As many as 37813 free lab tests are already carried out in these clinics.
Expressing satisfaction over the ongoing work, Sarangal said that the senior officers were already deputed to review the work in these clinics daily so as to ensure timely completion. He added that the Punjab government led by Chief Minister Bhagwant Mann was committed to provide the best healthcare facilities to the people free of cost at their doorsteps and expressed hope that these new clinics would help to make the state healthy.