Jalandhar, June 20-
With an aim to transform 'CM di Yogshala' into a mass movement, the Punjab Chief Minister Bhagwant Mann on Tuesday led more than 50,000 people of the state to conduct Yoga for carving out a healthy, progressive and prosperous state. "This revolution in the health sector is aimed at making the people of the state healthy both mentally and physically" asserted the Chief Minister while addressing the gathering in a function 'CM di Yogshala' here today at the PAP ground in which people from all sections of society participated enthusiastically.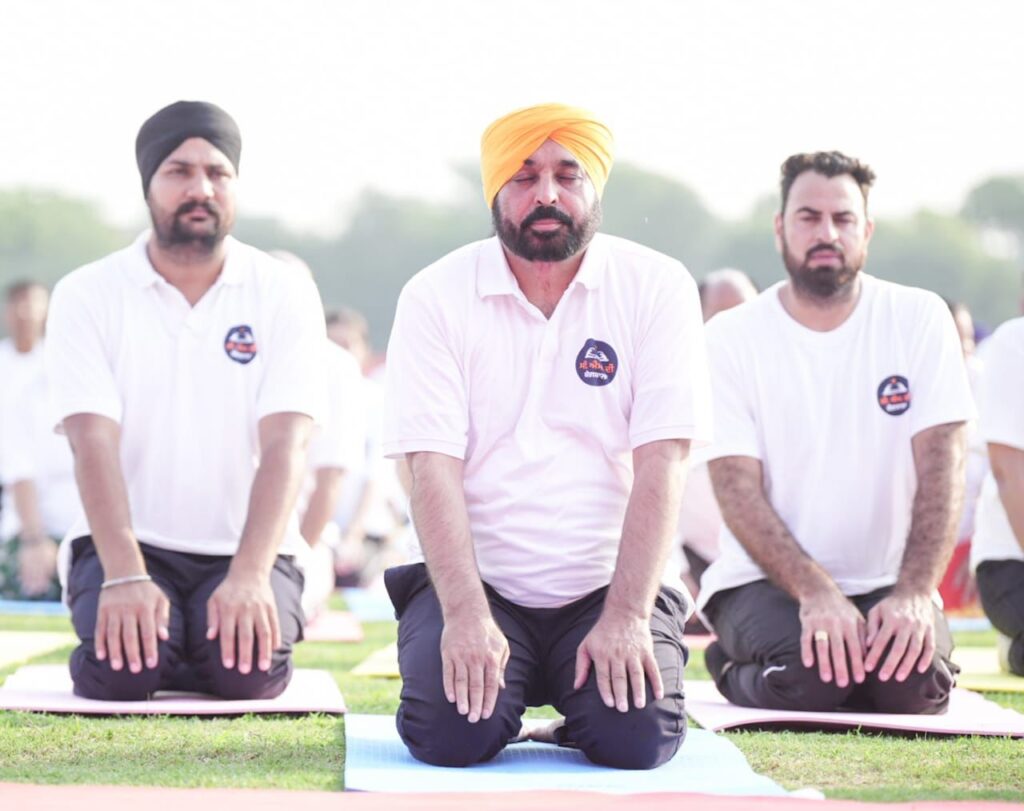 The Chief Minister envisioned that the 'CM di Yogshala' will act as a stepping stone for carving out a healthy and vibrant Punjab. He said that thousands of Punjabis have joined him for this noble cause and the day is not far when Punjab will regain its pristine glory of being a healthy and vibrant state. Bhagwant Mann said that unlike previous governments this is not a political function but the sole aim of this campaign is to make Punjab a healthy state by inspiring people to make Yoga an integral part of their life. The Chief Minister said that 'CM di Yogshala' is a citizen centric project, which is the brainchild of the Delhi Chief Minister Arvind Kejriwal and had attained lot of popularity amongst people in national capital. He said that a large number of population in national capital was benefitted from this pro-people initiative. Bhagwant Mann said that due to this only Punjab has replicated this scheme in the state to ensure that Punjabis can get huge benefit from it.
The Chief Minister said that people can dial toll free number 7669 400 500 or login to https://cmdiyogshala.punjab.gov.in for free yoga training adding that trained Yoga instructors will help people in acquainting themselves about yoga. He envisioned that in consonance with the glorious ancient tradition of India, these Yogshalas will help in making the Punjabis healthy, both physically and mentally. Bhagwant Mann said that as a part of this campaign highly trained Yoga instructors will impart free Yoga training to people in open parks and other public places.
The Chief Minister said that the primary motive of this campaign is to ensure that a mass campaign is started for making Punjab healthy, prosperous and progressive. He said that yoga was very essential for a fit body and sound mind adding that every individual should make yoga an integral part of their daily life to remain hale and hearty. Bhagwant Mann said that the 'CM di Yogshala' campaign will act as a pivotal to create awareness amongst the people about ensuring good health and hygiene by practicing Yoga.
The Chief Minister said that it is the need of the hour not only to maintain good health but also de-stress the people, who face numerous challenges every day in their lives. He said that rising stress levels amongst people is a major cause of concern for everyone and Yoga can play an important role in saving the people from it. Bhagwant Mann said that it is essential to maintain mental and physical equilibrium by living a quality life by making certain changes in lifestyle and by practicing Yoga. On the occasion Cabinet Ministers Balkar Singh, Dr Balbir Singh and Bhram Shankar Jimpa, Rajya Sabha MP Raghav Chadha, Lok Sabha MP Sushil Kumar Rinku, Additional Chief Secretary to CM A Venuprasad and others were also present.