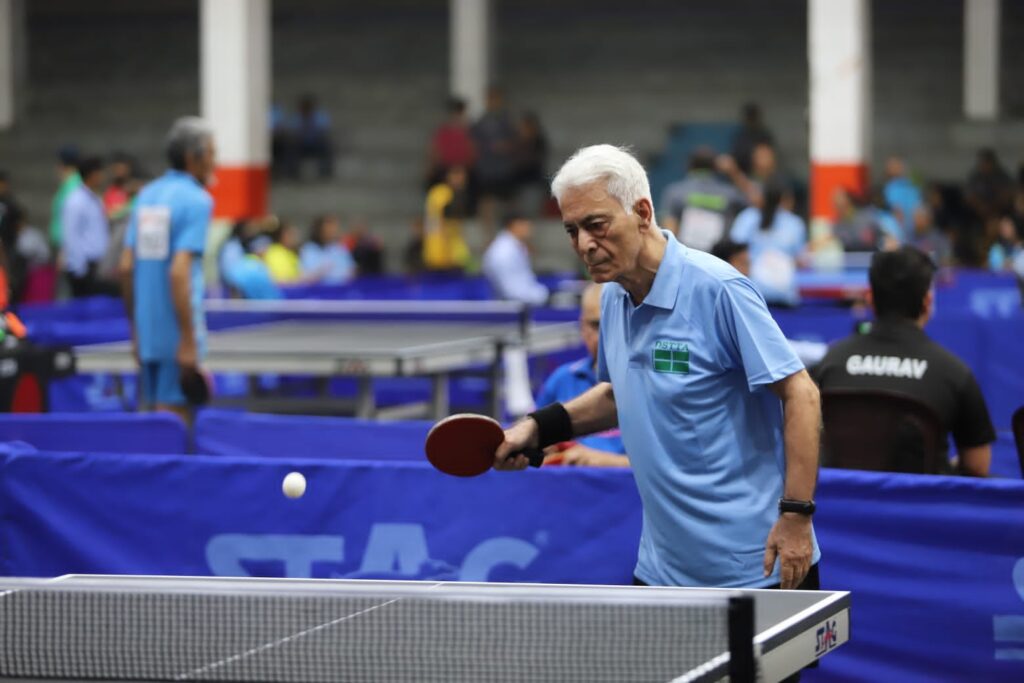 Jalandhar, April 24: Arun Singh Barhat, a bronze medal winner at the World Veterans Championships in January this year at Muscat, Oman, passed away after reaching here for the 29th Masters' National Table Tennis Championships yesterday.
The 77-year-old, survived by his daughter Aatmika and son-in-law, Dr Praful Bharadwaj, and two granddaughters, will be cremated in his hometown Jodhpur tomorrow.
Arun Singh reached Jalandhar yesterday along with his Rajasthan teammates to participate in the Masters' Nationals that got underway today. After checking into a city hotel in the forenoon, Arun Singh rested for a while before his planned visit to the championship venue in the evening.
However, he was not responding to the knock on the door, and his friends had to ask the hotel reception to open the door. They found Arun Singh in discomfort and rushed him to a nearby hospital, where the doctors declared him 'brought' dead. The cause of death was reportedly severe cardiac arrest.
Arun Singh, who retired as General Manager of Dena Bank, now a part of Bank of Baroda, was a passionate table tennis player and represented the institution in several tournaments at the national level. Besides, he was a regular at the National Veterans Championships and has several medals to his credit. In fact, Arun Singh bagged a gold medal in men's doubles at the Srinagar Nationals held last year.
Condoling his unexpected demise, TTFI president Meghna Ahlawat, expressed her shock and shared her grief with the family members. In her condolence message, she said: "I have heard a lot about your dedication and passion for the sport from my predecessors. People in the fraternity also talked about your other abilities and skills. It will be a huge loss for the table tennis family, especially your near and dear ones."
Kamlesh Mehta, Secretary General, said the passing away of Arun Singh was a personal loss. "We worked together in Mumbai and I had known him for many years. We also played together. I will miss a good and caring friend him, though he was my boss," he said.
Treasurer P. Nagender Reddy, who visited the hospital with Kamlesh Mehta, said it was sad news for all those pursuing the sport, particularly on World Table Tennis Day. "We met Dr Praful Bharadwaj, son-in-law of Arun Singh, as a mark of respect to the departed soul," said Reddy.
SHOW GOES ON
The organisers of the Masters' Nationals had to cancel the inauguration and march past ceremonies as a mark of respect to the departed soul. However, the matches on the opening day got underway with all team events in Men's category.
In the 40+ category, the Maharashtra A team defeated Haryana A 3-0 with Santosh Raoji, Onkr Hari Jog and Gurucharan Singh Gill winning their matches 3-0 respectively against Sachin Kumar, Ashish Kapil and Arvind Siag. As expected, RBI's A team, comprising Dheeraj Kumar Arora, opened against Vishal Josh but won the tough rubber 11-3, 4-11, 12-10, 9-11, 12-10 before his teammates, Mohammad Ali Baba and Sudhir Kesarwani accounted for Saurav Ganguly (3-1) and Vikash Joshi 3-0, of Madhya Pradesh A.
In other matches, the favourite teams like Delhi, Indian Audit and Bengal A went through the motions to notch up their first-round win.